We'd Like to Get to Know You
Meet Our Staff & Get In Contact With Us
Meet Our Staff
Kevin J Anderson, O.D., Founder
O.D.Education
Attended the University of Nebraska-Lincoln and Western Illinois University for undergraduate studies. After three years of education, Dr. Anderson transferred to Illinois College of Optometry and graduated with a Doctor of Optometry degree in 1987. During his course of optometric education, Dr. Anderson interned with a private optometrist and a group practice of ophthalmologists.
Practice History
Dr. Lynn Booren established Village Optical in the Scotch Pines shopping center in 1980. Dr. Anderson purchased the practice on September 1, 1987, and he maintains a private practice four days a week. Dr. Anderson associated with Optical Gallery on January 4, 1988, which he continues to practice two days per week.
Commitment
My mission at both locations is to provide the most thorough and comprehensive primary eye care in Colorado, using the latest technology and professional continuing education to remain on the forefront of eye care. To educate and inspire our patients with a complete understanding of their eye health is priority number one.
High Tech Office
Our office utilizes Digital Ocular Imaging of anterior and posterior locations of the eye, Optical Coherence Tomography, Computerized Corneal Topography for exam to exam monitoring of corneal shape,Patternless Computer Edging System for accurate repeatable fabrication of eyeglasses, Complete Office Computerization for efficient office management, and a fully Computerized Preliminary Testing Room which allows accurate and efficient gathering of information.
Practice Style Information
Colorado Board Certified Therapeutic Optometrist, practicing full-scope primary eye care. Subspecialties include Specialty Contact Lenses, Pre- and Post-Op care for laser correction, Dry eye syndrome and Keratoconus.
Mary Ann Corliss

Mary Ann is the office administrator since 2014. She brings to the office an extensive background in commercial banking, involving administration, management, and customer service. Her responsibility is to oversee the daily functioning of our office, assisting patients with their glasses, insurance, and billing. She spends countless hours working with insurance companies to aid our patients. She is married and enjoys spending time with her children and grandchildren. Her spare time she enjoys traveling, reading, working at their Steamboat Springs property and especially volunteering in the Cancer and Senior communities, her church, and with the NFCBA's Coats and Boots and Project Smile programs.
Lynette Creech

Lynette comes with an extensive medical background, ranging from Family practice to General Surgery and Urology. She joined the Village Optical staff in 2014 and has obtained an extensive list of attributes. Her position is Ophthalmic technician which enables Dr. Anderson to provide a complete examination including digital imaging, pretesting and evaluating all patient's needs. Her family is complete with her husband and three grown children.Spare time is sharing with her family, traveling, hiking or just watching a good lacrosse game.
Amy Benjamin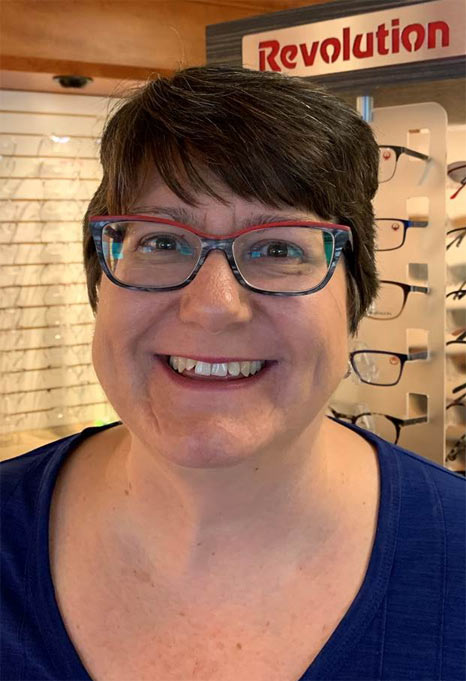 Amy is our head Optician and has been an Optician for over 18 years. Amy assists our patients when deciding on frame and lens optons. She will explain insurance benefits and how they apply to the patient's needs. She listens to her patient's needs and delivers outstanding patient service. Amy adores her family and friends and she is always ready for new adventures! Her puppies, Sohie and Tsula, bring her joy and companionship.